Laurie Matamoros, CMT
Owner/Operator of Body • Mind • Spirit, Inc.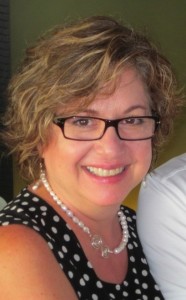 I am a member of the Associated Bodywork and Massage Professionals (ABMP) and am a certified massage technician in the State of Delaware.  I graduated from Deep Muscle Therapy School in 2005 and returned to The Harris School the following year to further my training.  I specialize in Neuromuscular Therapy, Swedish Massage, Reflexology, Myofascial Release, Integrative Muscular Movement Technique and various other techniques I have studied along the way through continuing education.    I draw from a very diverse background of careers and life experience including the invaluable skills I received through Stephen Ministry training, working in a hospital emergency room and with children in a Montessori setting.  I have found that listening to your words and to the story your body tells me determines how I attend to your needs on a uniquely personal level.
My older sisters used to entice me into giving them backrubs by offering various "rewards." Years later, I instinctively massaged my children–their very presence reward enough.   While working at A. I. duPont Children's Hospital my experiences confirmed what I already knew.   As I held my patients' feet or stroked their hair the monitors connected to them revealed a measurable, physical response   Through a series of extraordinary events, I have followed the path that led to this calling where I now have a front row seat to witness the power of touch–physical, emotional and spiritual–and I have never looked back.
Aside from pouring myself into my business  I am a wife and a mother to four very special people.  I have a passion for cooking and baking and can often be found in the kitchen trying out new recipes on family and friends.  I love taking walks in nature,  cheering my kids on in whatever activity they are currently participating.  I love to travel (though I don't do nearly enough of this) and spending time doing just about anything with the people I love.   Besides being an aspiring writer, I play the piano and paint.  I read everything I can get my hands on to expand my knowledge in various areas of interest.  I recently joined a book club where I'm  reading for the fun of it and nurturing friendship with some fabulous women.  I have enjoyed volunteering for Friendship House and Urban Promise and presently am thrilled to support the coffee-house ministry at Brewed Awakenings.  I'm involved in a local prayer ministry and am blessed for the opportunity to massage the homeless through Family Promise.  Finally, I find great joy in taking part in the miracles of healing that take place in this sacred space I call Body • Mind • Spirit.